Exhibit Information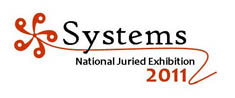 Systems

Allen Priebe Art Gallery, University of Wisconsin Oshkosh, Oshkosh, WI
February 3 - March 2, 2011
Juror: Dana Sperry, Youngstown State University, Youngstown, OH

Systems, a national juried exhibition, seeks to display a wide range of work that incorporates a system or systems as a main element of visual communication. View slideshow
Juror Dana Sperry is currently an Assistant Professor in Interdisciplinary Media at Youngstown State University in Youngstown, OH. Recent exhibitions include: The Forest for the Trees, Gallery 1708, Richmond, VA (February); Almost, Rural Research Laboratories at the Arnot Art Museum, Elmira, NY; Dana Sperry: New Works, Gardenfresh Gallery, Chicago, IL; Skinless Nuance/Mental Landscapes, North Harris College, Houston, TX; Humpty Dumpty, Southeastern Contemporary Art Gallery, Southeastern Louisiana University, Hammond, LA; Pale Water, (Gray Sandbox collaborative, during FotoFest), Houston Community College, Houston, TX.

Recent publications include: Deck the Halls with Boughs of Ugly, Amsterdam Weekly, December 18-31 (article); Nuit Blanche, Paris, 'White Night' Festival official guidebook (image); Dana Sperry and a lot more... (review) James Wagner, jameswagner.com; NOVA Art Fair (catalog, image) Big and Beautiful Shine in Exhibit (article) Akron Beacon Journal, August 14; FOTOFEST 2004: Celebrating Water (catalog, image); Politics, passion & property (article, image) Paul F. P. Pogue, NUVA, December 15; A Solution to Corporate-Owned Billboards (article) Catherin Komp, Clamour Magazine, October 27.
Text from Systems exhibit prospectus.